A week after Randall "Randy" Echanis, peace consultant of the National Democratic Front of the Philippines (NDFP), was killed in his house in Quezon City, a paralegal for human rights group Karapatan, was killed in a private village in Bacolod.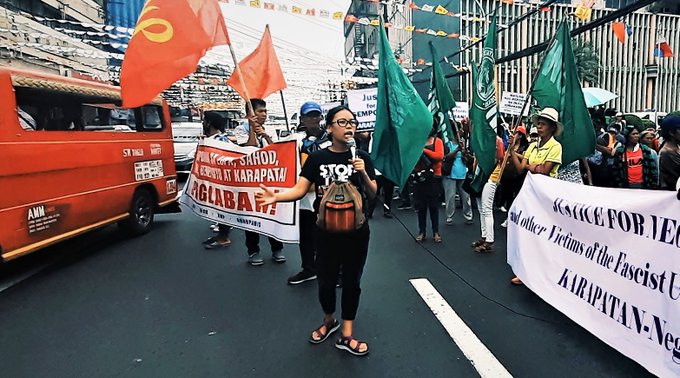 Human Rights activist Zara Alvarez was killed by unidentified perpetrators along Sta Maria Street in Eroreco, Barangay Mandalagan, Bacolod City 6:45pm on Monday night, August 17.
Karapatan spokesperson Cristina Palabay confirmed on her Facebook post the killing of Alvarez, who was also the group's former campaign and education director.
Palabay said that the group is undergoing "deep grief and indignation. Today, we laid to rest Ka Randy Echanis, one of those who helped [establish] Karapatan and staunch peace-builder and land rights defender. Tonight, we learned of the sad news that our former campaign and education director and paralegal in Negros, Zara Alvarez, was killed in Bacolod City."
According to the Karapatan spokesperson, 39 year old Alvarez was imprisoned for nearly two years and after her release, she continued to work as Karapatan's paralegal and as research and advocacy officer of the Negros Island Health Integrated Program (NIHIP).
The Department of Justice (DOJ) "may consider" probing the slay of Alvarez through its mechanism on politically motivated killings, Secretary Menardo Guevarra said Tuesday.
"We may consider her case for special investigation under AO 35 after some fact-checking," Guevarra said in a message to reporters.
Under the AO 35 mechanism, which aims to prosecute politically motivated killings, prosecutors lead a team of investigators from law enforcement agencies.
There is an ongoing AO 35 investigation into the killing of Anakpawis leader Randall Echanis, who was found dead in Quezon City last week and laid to rest on Monday.
"When will the killings stop? We just buried a peace advocate yesterday and we're not even through with mourning his death and we now have to grapple with the killing of one of our colleagues!" Karapatan secretary general Cristina Palabay said.
Alvarez was included in a list of more than 600 people tagged as "terrorists" in a proscription case filed by the Department of Justice in February 2018, according to CNN news.
Rappler reported that the list has been trimmed down to only two – exiled Communist Party of the Philippines founding chairman Jose Maria Sison and alleged Mindanao Commission Secretary Antonio Cabanatan – in a still pending case.
Palabay said the deaths of Echanis and Alvarez suggests the killings "are part of an orchestrated murderous rampage to silence dissent, with human rights defenders as targets and fair game."
"Her name and that of many others were stricken off the list, but the threats against her by alleged State forces continued," said Palabay.